9 June 2021
Authentic Italian Table – Food Design Night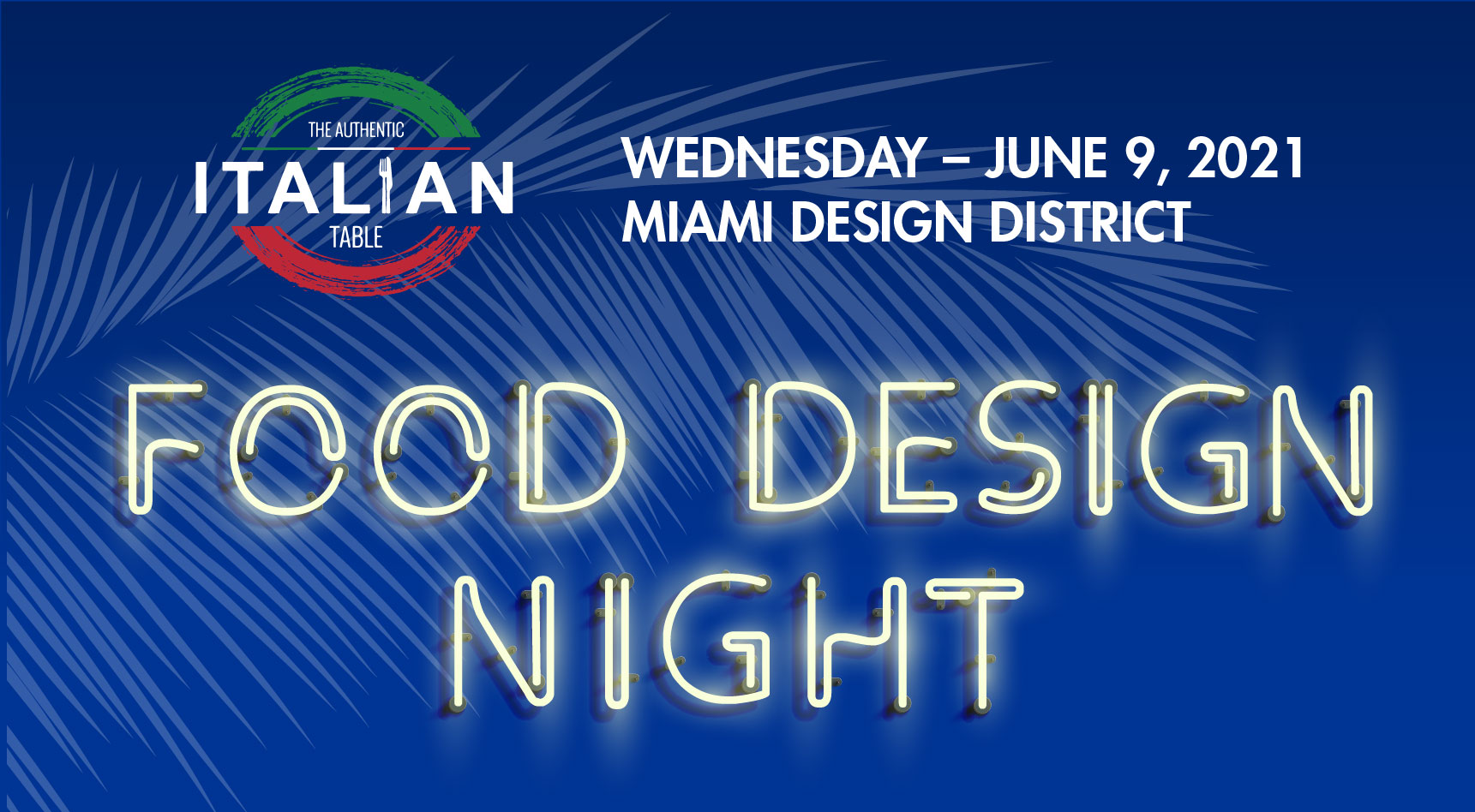 Back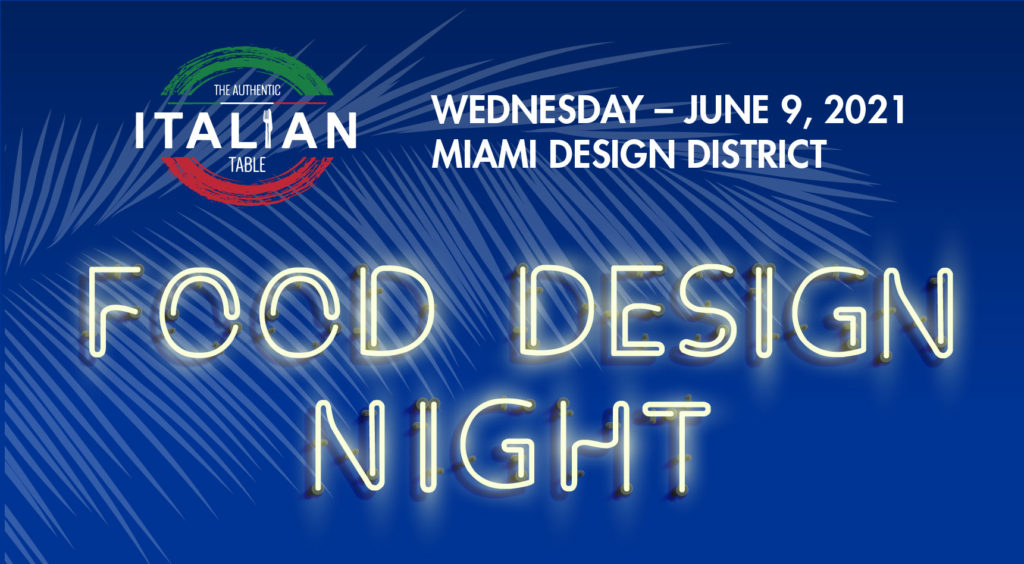 On June 9th, 2021, the Italy-America Chamber of Commerce Southeast had the pleasure to organize its first in-person event in 15 months.
"The Authentic Italian Table – Food Design Night", has been definitely a one-of-a-kind happening: organized simultaneously in 3 prestigious Italian showrooms at the Miami Design District – Kartell, Poliform and Minotti- it featured iconic design and authentic and innovative Italian cuisine.
The event, organized within the framework of the campaign "The Extraordinary Italian Taste" promoted by the Italian Government, has been the result of 15 partnerships and has seen more than 300 attendees, including local architects and designers, influencers, F&B industry professionals, and IACCSE members.
Three Italian chefs from Miami – Fabio Vaccarella from Celebrity Chef Events, Alberto Andrei from Coral House and Marco Giuliano from Doma Wynwood – displayed their own food-design creations.
Attendees had the opportunity to taste not only authentic Italian food but also DOC wines, beer and cocktails offered by our beverage partners: Shaw-Ross International Importers, Peroni Nastro Azzurro, Top Wine Imports, Santa Margherita USA, Go Wine and Valdo USA.
Finally, we held a raffle and two of our guests have received a round-trip ticket to Milan (Italy) kindly offered by our partner airline AirEuropa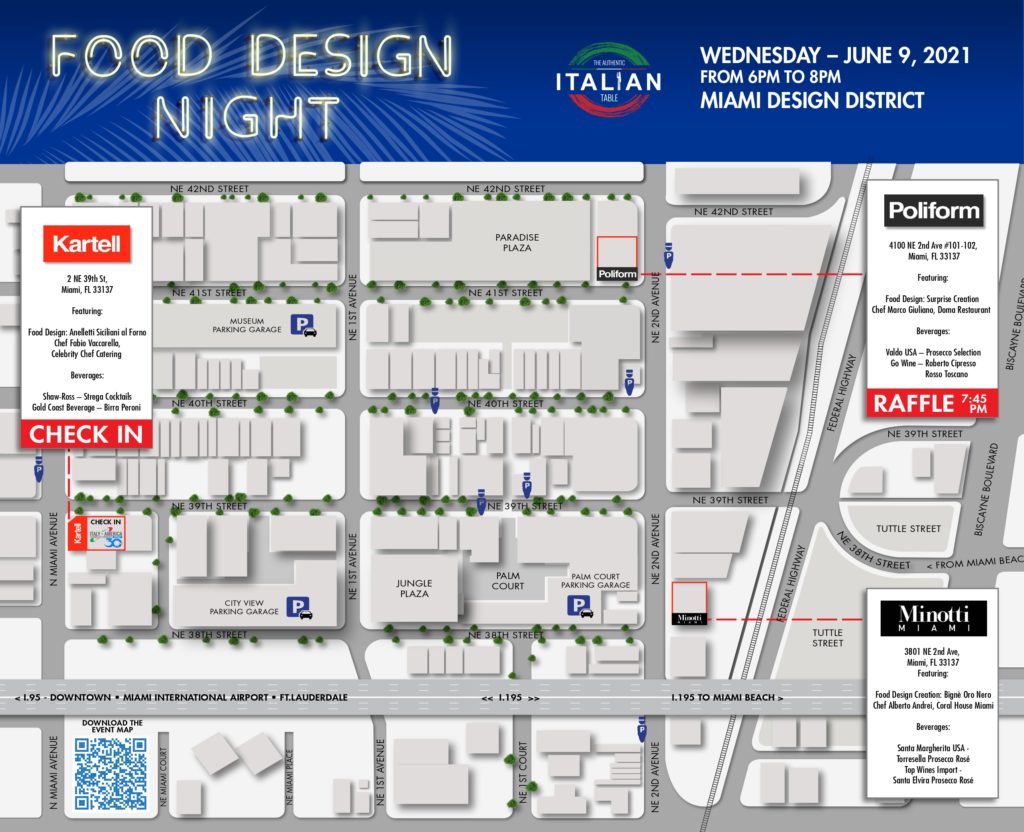 LOCATION 1
SHOWROOM:
Kartell, 2 NE 39th St, Miami, FL 33137
With 70 years of history, of family, culture and design, Kartell pursues beauty and absolute quality through an ongoing research and exchange with great designers. In 1999, Kartell became the first company in the world to use polycarbonate to produce furnishing items. From this moment on, the company developed and explored the theme of transparency that has made it unique and original, continuing its research to create products like never before.
RESTAURANT PARTNER:
Celebrity Chef – Chef Fabio Vaccarella
Food Design Creation: Anelletti alla Siciliana
http://www.celebritychefevents.com/
Celebrity Chef is an event and catering company, founded by Fabio Vaccarella, organizing parties and business lunch with a recognizable Italian taste.
BEVERAGE PARTNERS:
Shaw-Ross International Importers
Products offered at the event: Strega Liquor Cocktails
Founded in 1968 as a boutique wine and spirit importer representing a handful of brands, Shaw-Ross has grown into one of the nation's leading importers representing over 30 suppliers from around the world. Shaw-Ross is able to offer to its clients a wide range of interesting and unique products that are relevant today.
Products offered at the event: Birra Peroni Nastro Azzurro
Gold Coast Beverage, within the Reyes Beer Division, is the largest beer wholesaler in Florida and one of the largest in the US, offering 150 brands – domestic, import and craft. More than 228 million cases are delivered annually to more than 89,000 retail accounts across the nation.
LOCATION 2
SHOWROOM:
Minotti, 3801 NE 2nd Ave, Miami, FL 33137
Established in 1948, Minotti is an Italian company with a solid reputation at an international level as an excellent expression of "Made in Italy" in the field of contemporary furniture design and ambassador of a classic-modern lifestyle in the residential and hospitality segments. Over the years the company has conceived a specific "Minotti code", that has become a constant feature of every collection, always following the key principle of "innovation in the spirit of continuity". Deeply rooted in the company's DNA, it is linked to the principles of aesthetic understatement, timeless elegance, continuity in the sign of tradition, artisan savoir-faire with great attention to sartorial details.
RESTAURANT PARTNER:
Coral House Miami Restaurant, Chef Alberto Andrei
Food Design Creation: Bignè Oro Nero
https://www.coralhousemiami.com
Coral House Miami is an Italian restaurant where you can experience a home feeling experience that the chef experience growing up in Italy. The cuisine at the restaurant, including wood fire pizza and homemade pasta, is no different than what the chef's mother did to him.
BEVERAGE PARTNERS:
Products offered at the event: Torresella Prosecco Rosè
https://www.santamargheritausa.com
Founded in 1935, Santa Margherita, the flagship brand, has been contributing to the international success of premium quality Italian wine for more than 80 years. Santa Margherita describes itself as a "wine mosaic", whose tiles are situated in Italy's finest production zones, including Veneto, Tuscany, Alto Adige, Sicily, etc.
Products offered at the event: Santa Elvira Prosecco Rosè
https://www.topwinesimport.com
Top Wines Import was founded in 2012 by Antonino Nigrelli. The flagship wine their portfolio is "Santa Elvira" named after Mrs Elvira Nigrelli which embraces wines from the most prestigious Italian wine regions such as: Veneto, Sicily, Piedmont, Tuscany, Lombardi, Abruzzo and more.
LOCATION 3
SHOWROOM:
Poliform, 4100 NE 2nd Ave #101-102, Miami, FL 33137
https://www.poliform.it/en-us/poliform
Established in 1970 from an evolution of a small artisan's shop dating back to 1942, Poliform is one of the leading players on the international furniture scene. Poliform is the result of adventurous enterprise. Its collection is set out as a wide diversified choice and includes systems and furnishing accessories for the whole house: bookcases, complements, wardrobes, beds, kitchens, sofas and armchairs.
RESTAURANT PARTNER:
Doma Wynwood Restaurant, Chef Marco Giuliano
Food Design Creation: Non è mai troppo tardi
Located in the beautiful Wynwood art district, since 2018, Doma Wynwood is a neighborhood restaurant featuring Mediterranean inspired, Southern Italian cuisine. Doma team brings their heritage from Italy and designed a contemporary menu that includes a number of classic Italian dishes as well as more modern selections. Their menu is focused on sourcing local ingredients, always serving the freshest and best available quality ingredients in season from Florida and neighboring states – Seafood and fish are the highlights of the menu.
BEVERAGE PARTNERS:
Products offered at the event: Prosecco Selection
Valdo's history dates back to 1926, when a group of enterprising winemakers from the Valdobbiadene territory decided to join forces to found a company devoted to sparkling wine production of Valdobbiadene Prosecco Superiore and Cartizze. Since then, Valdo has given precedence to a culture of excellence, taste and know-how, earned by hard work and tireless passion.
Products offered at the event: Roberto Cipresso Rosso Toscano
Go Wine is a wine importer of a great variety of wines from different countries, including Argentina, Chile, France, Italy, Spain and New Zealand.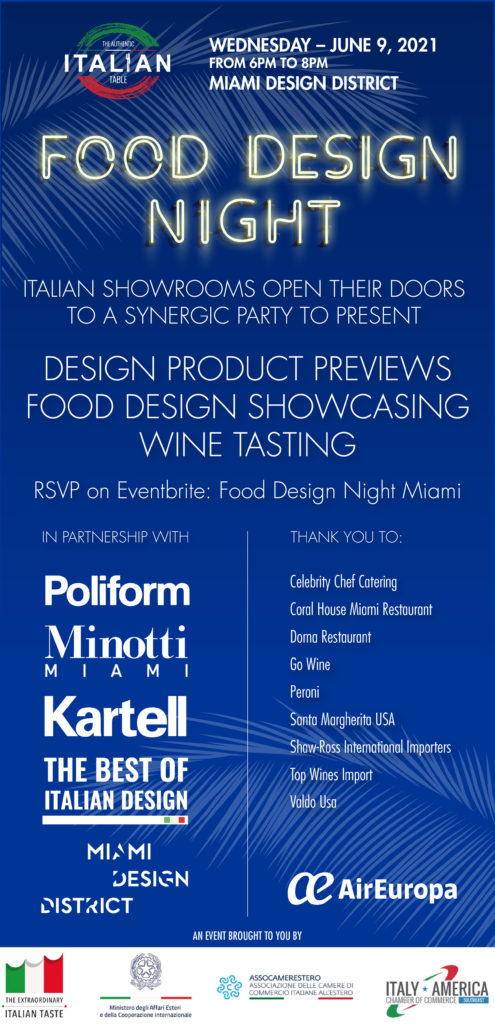 .