13 November 2018
Italian Culinary Tour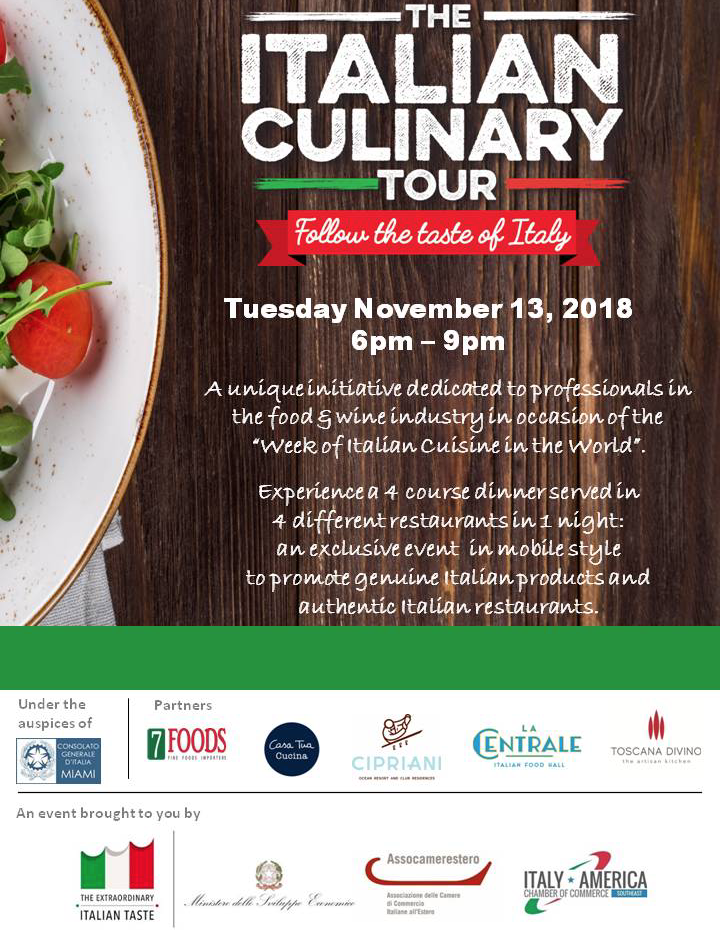 Back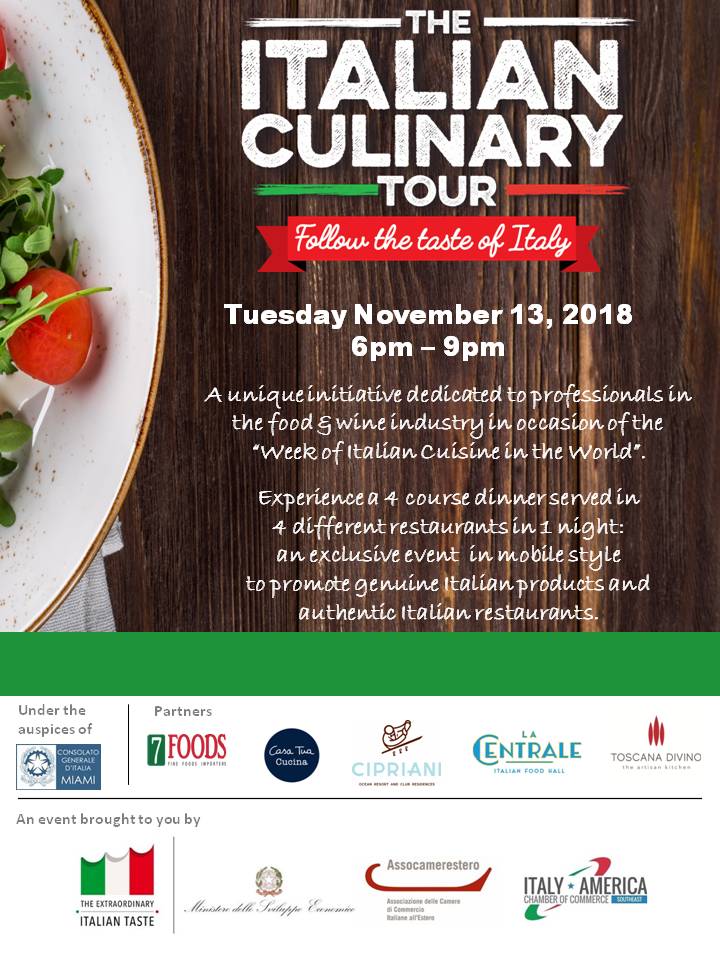 Organized in the frame of the "Week of Italian Cuisine in the World," the 2nd Edition of The Italian Culinary Tour will take place on Tuesday, November 13th in the Brickell area.
This is a unique event that bases itself on the concept of a mobile meal where participants can experiment a variety of tastings and wines and have the possibility to follow a true "path of taste" moving from one restaurant to another in order to explore new locations and the Italian lifestyle. Attendees will have the opportunity to discover new flavors and wine pairing while interacting with chefs, food bloggers and journalist, food experts, and restaurant owners.
The Italian Culinary Tour intents to serve as a showcase of the best of Italian food, wine, concisely all in one night through a guided tour of 4 of the most top and excellent Italian restaurants in Miami.
7 Foods, the Italian fine food importer who has partnered with this initiative will be present the evening of the event demonstrating some of their very own genuine Italian food products.
The event is designed strategically in one area -the Brickell area- so that all restaurants can be of walking distance to and from each destination. It will be about 3 hours and approximately 30 minutes at each restaurant. By the end of the tour, a 4 course dinner will have been served along with different wine pairings that each authentic restaurant chooses to offer.
The Italian Culinary Tour is framed as part of "The Extraordinary Italian Taste" program promoted by the Italian government aimed to promote genuine Italian products and authentic restaurants.
Savor the cuisine of some of the most talented Italian chefs in the heart of Miami.
The tour will present to you in order from start to finish:
---
Interested in more information about last year's 1st Edition? Click here
For the official video of the 1st Edition: Click here
For further information please contact: rsvp@iaccse.com