12 December 2018
Italic Award Gala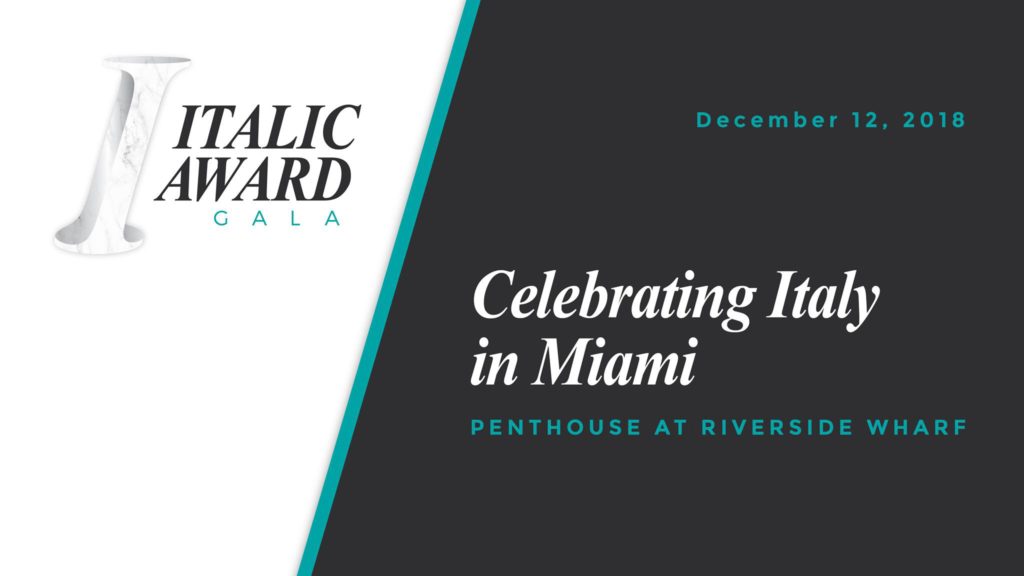 Back
COST
IACC members: $150*| make your reservation via email at rsvp@iaccse.com. To process the payment please call at 305-577-9868, or send a check to Italy-America Chamber of Commerce Southeast, 999 Brickell Avenue, ste 1002, Miami, FL, 33131
Non members: $200* | tickets available on EVENTBRITE.COM search for "Italic Award Gala" city: Miami
*Tips and Taxes included
REGISTRATION CLOSES ON FRIDAY, NOVEMBER 30th. THANK YOU FOR ALL YOUR SUPPORT. THIS EVENT IS CURRENTLY SOLD OUT.
Don't wait till the deadline to purchase your ticket since space is limited and they will sell fast.
TABLES AND SPONSORSHIP: for further information, click on the following link: https://conta.cc/2DdCCuO
---
THANKS TO OUR SPONSORS:
Gold:
American Airlines (www.aa.com), found in 1930 is now one of the largest airlines in the world. They take pride in providing safe, dependable and friendly air transportation to their customers, along with numerous related services.
Citco (www.citco.it) have reinterpreted the concept of luxury and modified the perception of marble. They collaborate with renowned international designers such as Norman Foster, Ferruccio Laviani and Zaha Hadid Architects.
The Extraordinary Italian Taste (www.trueitaliantaste.com) is organized by Assocamerestero with the support of 9 Italian Chambers of Commerce in Chicago, Houston, Los Angeles, Miami, New York, Montréal, Toronto, Vancouver and Mexico City. It is a major campaign with the aim to enhance the awareness of authentic Italian food products among consumers in the USA, Canada and Mexico.
Silver:
7 Foods (www.7foods.us) is a fine food importer based in Miami that offers a vast selection of Italian products such as coffee, pasta & rice, sweets and many others. They have a long history with important generational players that have contributed to making Italy the most outstanding country in the world for the excellence of its produce
Brickell Flatiron (www.brickellflatiron.com) is a residential skyscraper created by the CMC Group, a fully integrated real estate development company focused on luxury residential. It was founded in 1986 by visionary developer, Ugo Colombo, currently under construction in the Brickell district of Miami, Florida. It is expected to rise over 736 feet with 64 floors.
Shutts & Bowen (www.shutts.com) is a full-service law firm that has provided leadership and high-quality legal services to businesses and individuals for over a century. With more than 290 attorneys located in eight offices in Florida, Shutts offers a full range of legal services to its clients locally, nationally and internationally.
Law offices of Ilaria Cacopardo (www.cacopardolaw.com) is dedicated solely to the practice of United States Immigration and Naturalization Law. Their philosophy is to give their clients the personal, confidential, and informed advice they deserve.
Man-Super! (www.man-super.com) is an advertising company located in Florence, Italy and also in Miami, Florida. They provide services such as social media management, printing & installation, media planning, design & production of promotional materials and many others.
Snaidero USA (www.snaidero-usa.com) has the mission to bring the best of the "Made-in-Italy" modern kitchen design to American homes and to provide the American market with the finest designs for living, created by the world's foremost architects and designers, while maintaining the highest standards of customer service.
Water Security System (www.watersecuritysystem.com) helps homes of any size save water, prevent damage, and save money. One of their most innovative characteristics is the immediate response that corresponds to water emergencies.
Prager Metis (www.pragermetis.com) is known for their "team approach" to creating financial security for their clients, and provides a full range of accounting and tax services including forensic accounting, business and strategic planning, and litigation support.
Robert Allen Law (www.robertallenlaw.com) is a South-Florida based boutique international law firm specializing in business law, yacht law, and litigation. Their attorneys serve clients throughout the United States, Europe and South America.
Supporting:
Urbani Truffles (www.urbani.com) is the absolute world leader in truffles, processing an annual average of 100 tons of product, and it is one of the most prestigious flags of Italy in the world. Today, the Urbani Group is proudly and effectively directed by Paolo and Bruno Urbani, direct descendant brothers of the founders.
Veritas Marketing & Distribution, Corp. (www.veritaswinemiami.com) is a wine importer and distributor based in Miami serving the Florida market. They specialize in classic vintages from select estates producing the highest quality wines.
F&B Sponsors:
Urbani Truffles (www.urbani.com) , Veritas Marketing & Distribution, Corp.(www.veritaswinemiami.com) , Acqua Panna and San Pellegrino (www.nestle-watersnsa.com), Gra'it (www.graitgrappa.com) and Grappa of (www.ofbonollo.com), Bio Bio Gelato (www.miamibeach.biobiogelato.com), Bufarella (www.bufarellausa.com), La Peonia (www.lapeonia.it), Panarello (www.panarello.com), Espresso Made (www.espressomade.com), Padilla Cigars (www.padillacigars.com) .