15 May 2019
The Authentic Italian Table: Food Design Contest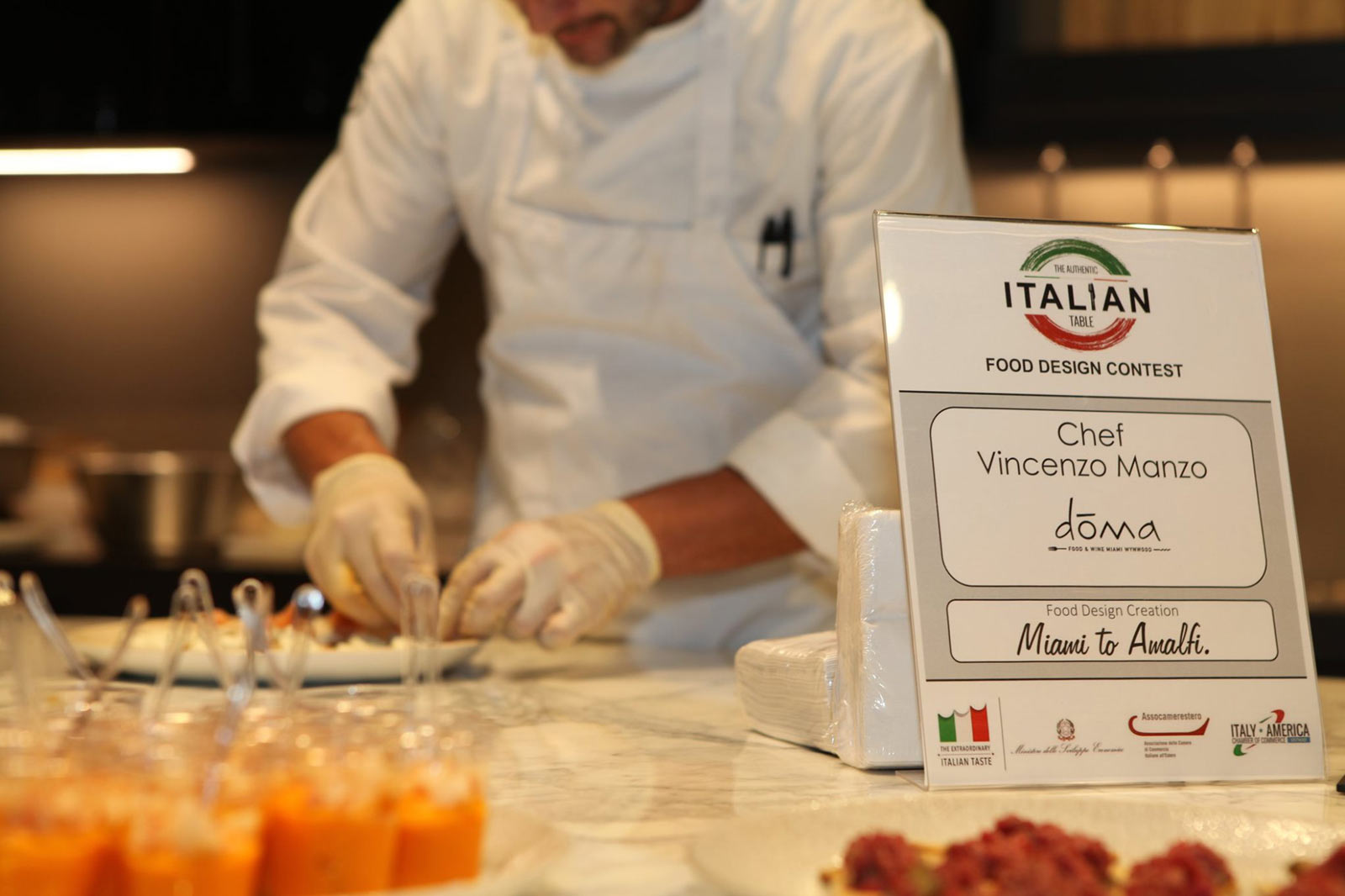 Back
It has been a great success for the "The Authentic Italian Table- Food Design Contest" organized by the Italy – America Chamber of Commerce Southeast at the Miami Design District on May 15th.
More than 300 guests participated to the event, and especially 5 top Italian Chefs, 10 experts among food critics, food bloggers, influencers and designers, 4 wine importers/distributors and other companies from the food industry.
The initiative was organized within the frameof the True Italian Taste project (www.trueitaliantaste.com), aiming to promote the authentic Italian food and cuisine among American influencers and consumers.The event started at 6.30 pm.During the Food Design Contest five of the top Italian chefs based in South Florida competed with a signature dish for the winning title. The competing dish expressed the chef's personal interpretation of "food design", from the aesthetic to the conceptual aspect, always referring to a common inspiration: the Italian culture and the use of authentic Italian ingredients.After a very tight competition, Fabio Vaccarella of Celebrity Chef Events, with his "Paccheri alle due Sicilie", won the Authentic Italian Table- Food Design Contest. Every showroom hosted a themed food tasting paired with Italian wines and liquors. These are the guest chefs who took part to the competition:
Claudio Lobina, chef at Puntino Key Biscayne – performing at Poliform showroom;
Andrea Marchesin, chef at Toscana Divino – performing at Hausscape showroom;
Fabio Vaccarella, chef at Celebrity Chef Events– performing at Minotti Cucine showroom;
Rocco Mauriello chef at Palat – performing at Natuzzi showroom;
Vincenzo Manzo, chef at Doma – performing at The Linea Studio showroom.
A special thanks to all participating chefs, for creating an assortment of wonderful design dishes.
The winning chef was proclaimed by a panel of judges formed by 10 experts among food critics, food bloggers and designers:
Dodo Arslan, Dodo Arslan Studio | Designer
Alejandra Cangas, The Hungry Post | Food Blogger
Doreen Colondres, Celebrity Chef, Cookbook Author , Wine Educator
Stella Ford, Museum of Contemporary Art Miami | Director of Development
Valentina Mussi, Sweetportfolio | Food Blogger
Victoria Pesce Elliott, Restaurant Critic, Food Writer
Rachel Santos, The Cultured Local | Food Blogger
Lucia Schito, Salone del Mobile di Milano | Director North America
Gretchen Schmidt, Edible South Florida | Editor– Daniela Ava, Food Blogger, South Florida Food Blog.
The winner was awarded with a precious Gold plated serving pan donated by Agnelli USA. Thanks to the all the partners including: Gra'it Grappa, ItalCibus, Italwine usa, Tomson Hospitality and Veritas Marketing & Distribution.