15 November 2017
The Extraordinary Italian Taste – Pizza night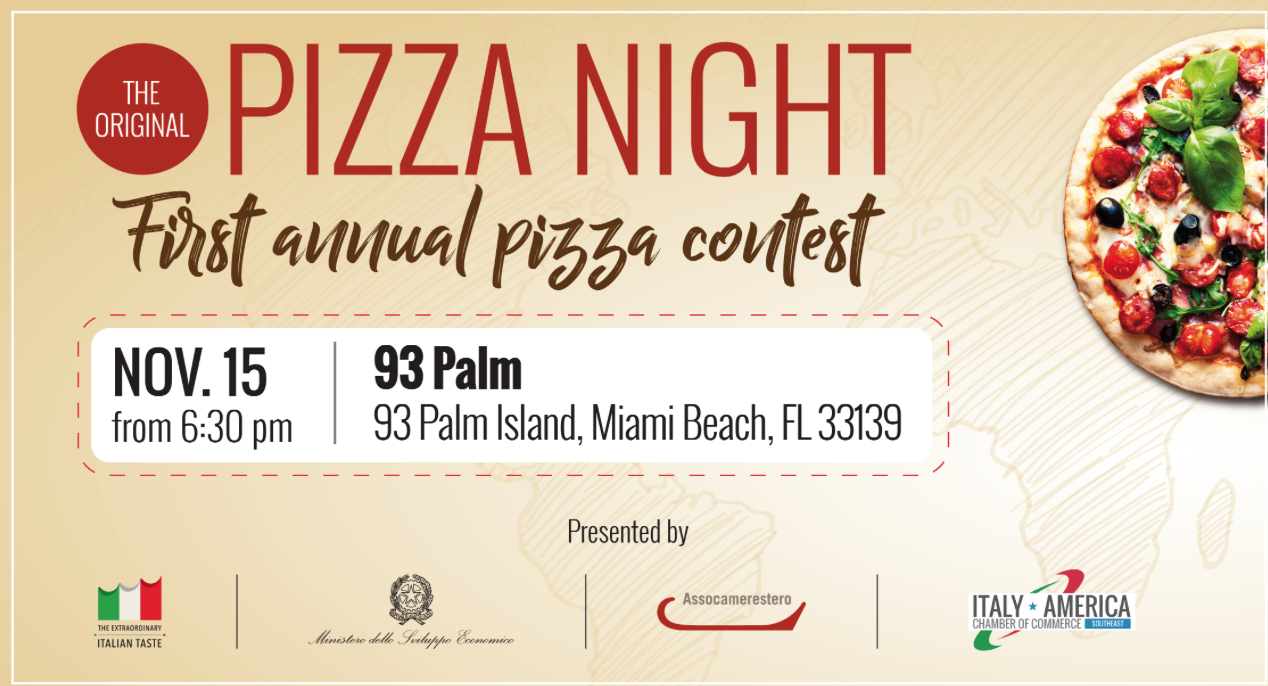 Back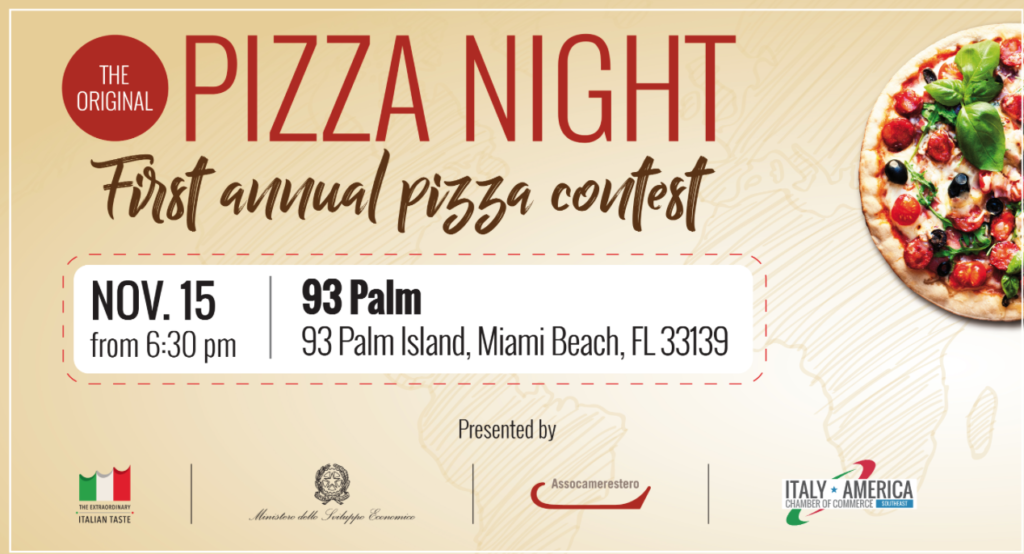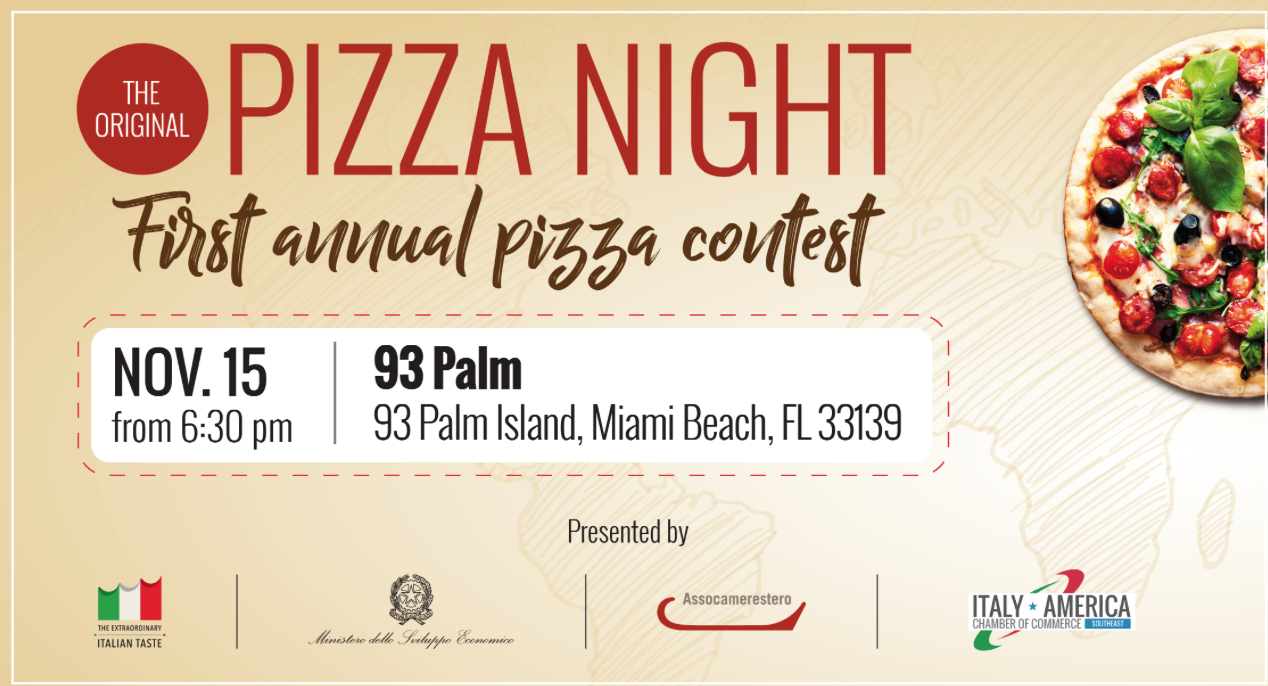 EVENT: The Extraordinary Italian Taste – Pizza Night
Date: November 15th, 2017 (from 6.00 PM to 10 PM )
Location: Palm 93 Villa – Palm Island – Miami Beach
Event Description:
Organized in the amazing setting of Palm 93 Villa, the event will consist in the participation of 6 Pizzerie that will showcase their chefs professionalism with great exhibitions throughout the night. Each chef will be preparing the pizza, following regional recipes and peculiarities. At the end of it will be given the award to the most "Innovative" pizza (experts jury) and to the most "Extraordinary" (public vote). For that occasion the Chamber will rent mobile pizza ovens.
Main target of the event will be food bloggers and journalists (influencers), hospitality industry professionals, and selected local consumers (foodies).
Over the night, there will also be other 2 moments to celebrate the Made in Italy culinary excellence.
The President of the Chamber will confer the Marchio Ospitalita' Italiana award upon new local restaurants, preventively selected for their outstanding service and ability to give to their clients a real Italian experience.
The Marchio Ospitalita` Italiana seal will be given to 5 new restaurants that will be added to the already awarded 40 restaurants of the previous years. These new restaurants are: Forte dei Marmi, La Moderna, O'Munaciello, U'Mast, Zucca.
Simultaneously, it will be presented the preview of the Chamber's Magazine ".it Italian Trade" dedicated for this year entirely to the Food & Wine industry.
It is expected a participation of about 200 influencers and foodies.
The night will be promoted by personalized invitations and a social campaign to specific professionals in the Food & Beverage.
Partners:
6 Italian Restaurants / Pizzerie that will participate with their Pizza Chef at the Pizza Night event: Farinelli 1937, Fratelli la Bufala, O Munaciello, Pummarola, Riviera Focacceria Italiana, Spris.
The night will be held in the framework of the II Week of the Italian Cuisine in the World promoted by the Italian Government and will occur simultaneously in other 8 big cities of North America (New York, Los Angeles, Toronto, etc.) with the operative organization of the Italian Chambers of Commerce.
Guest Star/ Event Presenter: Doreen Colondres, a well-known blogger (www.lacocinanomuerde.com) and TV personality will be presenting the night and the participant pizzerias.
Thanks to the sponsors of the event:
Biancotaste www.biancotaste.com
MB America www.mbamerica.net
Gelateria Veneta www.venetagelateria.it
Bread Stone Ovens, LLC breadstoneovens.com
Stefano Versace Gelato www.stefanoversacegelato.com
Italy Wines & Food Distributor www.worldwineandfood.com
Gra'it www.graitgrappa.com
Bramante birra_bramante